8/13pcs Soft Makeup Brushes Set Eyeliner Eye Shadow Brush Cosmetic Foundation Blush Powder Blending Beauty Makeup Tool Maquiagem
Product Description
Origin:

Mainland China

Quantity:

8/13 PCS

Used With:

Blusher,Concealer,Eye Shadow,POWDER,Sets & Kits,Bronzer Brush,Sculpting Brush,Highlighter Brush,Eyebrow brush,Eyeliner,FOUNDATION,Lip

Item Type:

Makeup Brush

Number of Pieces:

COMBO

Brush Material:

nylon

Model Number:

X018

Handle Material:

nylon

Name:

Makeup brush set/ kits

Package include:

8/13 PCS Brushes in bag

Hair material:

Nylon

Handle material:

Plastic

Bag material:

Cloth

Size:

about4-17 CM

Feature:

Soft bristles

Have:

Foundation Blush Powder Concealer brush

Style:

Eyeshadow brush
Dear consumers:
The makeup brush is our new product. If you have any suggestions, please let us know. We will try our best to provide you with high-quality and low-cost products.
The 8pcs cosmetic brush set is mini portable cosmetic brush with small size; 13pcs cosmetic brush set is normal cosmetic brushes
Description:
Soft and fine artificial fibers reduce damage to the skin.
Wooden handle and aluminum tube, durable cosmetic brush.
Easy to clean , not easy to shed hair.
Specifications:
Color:Lotus color
Quantity: 13 pcs
Material: artificial fiber
Type: powder brush, foundation brush, shadow brush, blush brush, highlighter brush, detail concealer brush, nose shadow brush, eye shadow brush, eyebrow brush, lip brush.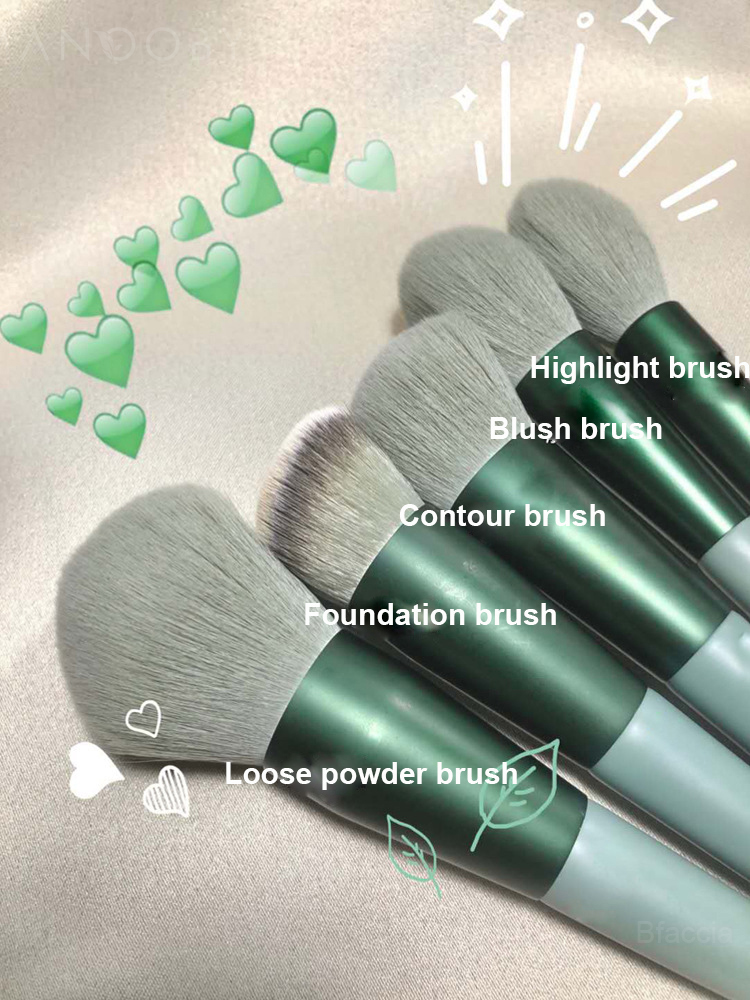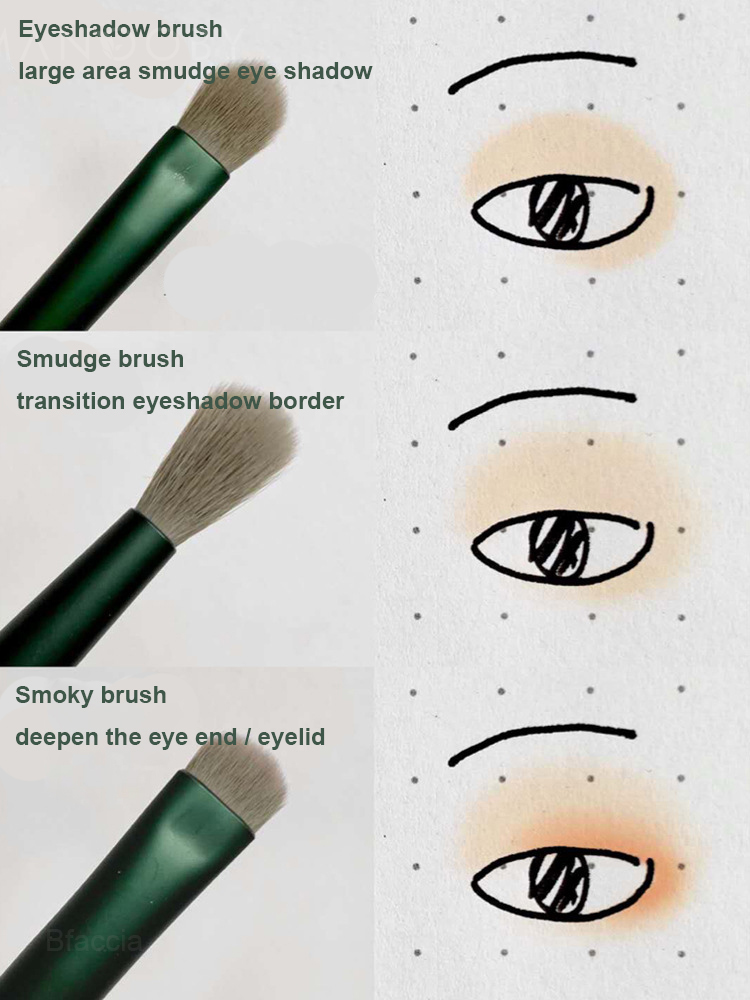 Quick Comparison
Settings
8/13pcs Soft Makeup Brushes Set Eyeliner Eye Shadow Brush Cosmetic Foundation Blush Powder Blending Beauty Makeup Tool Maquiagem

remove

78 Colors Makeup Pallete Matte Eyeshadow Lasting Silky Powder Trimming Concealer Lipgloss Makeup Set MH88

remove

8/13pcs Soft Fluffy Makeup Brushes Set Eye Shadow Foundation Women Cosmetic Powder Blush Blending Beauty Make Up Beauty Tool

remove

Neceser Zipper Makeup bag Neceseries Cosmetic bag dot beauty Case Make Up Tas Makeup Sets Organizer Storage Travel Wash cosmetic

remove

Eyeliner Pencil Shadow Palette 12Pcs/Set Mixed Colors Make Up Waterproof Yellow Eye Liner Beauty Pen Cosmetics Eyes Makeup Tool

remove

5-13 Pcs/Pack Soft Fluffy Makeup Brushes Portable Set for Cosmetic Foundation Blush Powder Eyeshadow Makeup Brushes and Tools

remove

Image
SKU
3256804679213601
2255800129580983
3256804489350712
2251832645772775
2251832686644678
3256804568411657
Rating
Price

$

43.14

$

82.47

$

43.14 –

$

43.20

$

44.01

$

43.14

$

43.26 –

$

48.84
Stock
Availability
Add to cart
Description
Content

Origin:

Mainland China

Quantity:

8/13 PCS

Used With:

Blusher,Concealer,Eye Shadow,POWDER,Sets & Kits,Bronzer Brush,Sculpting Brush,Highlighter Brush,Eyebrow brush,Eyeliner,FOUNDATION,Lip

Item Type:

Makeup Brush

Number of Pieces:

COMBO

Brush Material:

nylon

Model Number:

X018

Handle Material:

nylon

Name:

Makeup brush set/ kits

Package include:

8/13 PCS Brushes in bag

Hair material:

Nylon

Handle material:

Plastic

Bag material:

Cloth

Size:

about4-17 CM

Feature:

Soft bristles

Have:

Foundation Blush Powder Concealer brush

Style:

Eyeshadow brush

Dear consumers:

The makeup brush is our new product. If you have any suggestions, please let us know. We will try our best to provide you with high-quality and low-cost products.

The 8pcs cosmetic brush set is mini portable cosmetic brush with small size; 13pcs cosmetic brush set is normal cosmetic brushes

Description:

Soft and fine artificial fibers reduce damage to the skin.

Wooden handle and aluminum tube, durable cosmetic brush.

Easy to clean , not easy to shed hair.





Specifications:

Color:Lotus color




Quantity: 13 pcs

Material: artificial fiber

Type: powder brush, foundation brush, shadow brush, blush brush, highlighter brush, detail concealer brush, nose shadow brush, eye shadow brush, eyebrow brush, lip brush.




Brand Name:

VIBRANT GLAMOUR

NET WT:

15g

Ingredient:

as shown

Quantity:

78

Model Number:

218949

78 Colors Makeup Pallete Matte Eyeshadow Lasting Silky Powder Trimming Concealer Lipgloss Makeup Set MH88

Features

:

1. A cosmetic eyeshadow, lipstick and blush palette set is full of 78 color makeup palette. Essential cosmetic set for makeup.

2. High quality ingredients with silky shine color, can last for all day long. Provide total camouflage for almost any skin problem including blemishes.

3. Create great look and shape your facial appearance in few easy steps.Colorful eyeshadow will make you charming among people in the evening .

4. Portable and convenient to use. Very pigmented and vibrant, palettes includes matte eye shadows, easy to match your look!

5. Great for party makeup, casual makeup, wedding makeup, daily makeup, etc.

Specification

:

Size: 3.2x16.6x13.4

Shelf Life: 3 years

1x Makeup Pallete

Brand Name:

Manooby

Origin:

Mainland China

Used With:

Blusher,Concealer,Eye Shadow,Eyeliner,Eyebrow brush,Highlighter Brush,Sculpting Brush,FOUNDATION,POWDER,Sets & Kits,Bronzer Brush

Item Type:

Makeup Brush

Number of Pieces:

COMBO

Brush Material:

Wool Fiber

Handle Material:

nylon

Quantity:

13 PCS

Model Number:

X018

Name:

Makeup brush set/ kits

Hair length:

4.5 CM

Package include:

13 PCS Brushes in bag

Hair material:

Nylon

Handle material:

Plastic

Bag material:

Cloth

Brush length:

17 CM

This set includes 13 unique brushes to help create an array of different looks.

Different shapes and sizes of the bristles allow you to create a variety of looks while providing perfectly polished makeup styles.

Each brush is crafted meticulously starting with the wooden handle and aluminum alloy ferrule.

Roll up carrying case with magnetic press-stud closure stores and protects brushes with ease.

The most organized and elegant way to carry your make-up and cosmetics. Washable with No Dye Run.

Intended for makeup enthusiasts, the creative possibilities are endless.

Specifications:

Material: Nylon hair + aluminum alloy + plastic

Quantity: 13 pcs

Color: Green, pink, yellow

Size of brushes: Around 17 cm/ 6.2in




Brand Name:

LAIKOU

Origin:

Mainland China

NET WT:

0.1kg

Type:

Makeup Set

Ingredient:

Cosmetic Cases

Quantity:

1

Model Number:

H-FX103

Material Composition:

Polyester

Closure Type:

Zipper

Neceser Zipper Makeup bag Neceseries Cosmetic bag dot beauty Case Make Up Tas Purse Organizer Storage Travel Wash pouch

Origin:

Mainland China

Number of Pieces:

One Unit

Ingredient:

other

Benefit:

Easy to Wear

NET WT:

other

Size:

Full Size

Single color/multi-color:

Above eight colors

Country/Region of Manufacture:

China

Certification:

GZZZ

GZZZ:

YGZWBZ

Type:

Eye Shadow

Certificate Number:

20190344

Model Number:

Eyeshadow

Finish:

Natural Factors

Waterproof / Water-Resistant:

Yes

Quantity:

12pcs

Length:

15cm

Quantity:

12 Pcs/Set

Color:

Mixed Color(12 Colors)

Type:

Eyeliner Pencils

Function:

Eyeliner ,Eye Shadow

Easy to draw a delicate thin line:

shades around the eyes last long

eye brow pencil:

shadow palette

too faced make up:

revolution makeup palette

waterproof eyeliner:

waterproof makeup

yellow eyeliner:

pencil drawing

Feature:
Type:Eyeliner Pencils
Length:15cm
Quantity:12 Pcs/Set
Color:Mixed Color(12 Colors)
Function:Eyeliner ,Eye Shadow
12 different colors offer you a professional make-up kit
Easy to draw a delicate thin line
Beautiful shades around the eyes last long
Ideal for making up precision definition and thickening effect
Notice:
Due to the different monitor and light effect,the actual color maybe a slight different from the picture color.
Please allow 2-3cm differs due to manual measurement .


Package Includes:

12 x Eyeliner Pencils





Brand Name:

FUMOSIK

Origin:

Mainland China

Quantity:

5-13Pcs/Pack

Used With:

Blusher,Concealer,Eye Shadow,Eyeliner,FOUNDATION,Lip,POWDER,Sets & Kits,Eyelashes,Bronzer Brush,Sculpting Brush,Highlighter Brush,Eyebrow brush

Item Type:

Makeup Brush

Size:

5-13Pcs/Pack

Number of Pieces:

One Unit

Model Number:

MGB-033

Handle Material:

Plastic

The makeup brush is our new product. If you have any suggestions, please let us know. We will try our best to provide you with high-quality and low-cost products.

Description:

Set of 5-13 brushes, including foundation brush, makeup brush, shadow brush, blush brush, eye shadow brush, lip brush, etc.

Soft and fine artificial fibers reduce damage to the skin.

Plastic handle and aluminum tube, durable cosmetic brush.

Easy to clean , not easy to shed hair.

Specifications:

Hair length: about4.5cm

Total length: about 17cm

Name: cosmetic brush

Color:Picture color

Weight: 85g

Quantity: 13 pcs

Material: artificial fiber

Type: powder brush, foundation brush, shadow brush, blush brush, highlighter brush, detail concealer brush, nose shadow brush, eye shadow brush, eyebrow brush, lip brush.

Suitable :all

Package Included:

Divided according to different styles: a set of 5 pieces, a set of 8 pieces, and a set of 13 pieces

Weight
Dimensions
N/A
N/A
N/A
N/A
N/A
N/A
Additional information